The following lines should give you an overview of what you can expect the procedure to be if you are working with a freelance illustrator for the first time.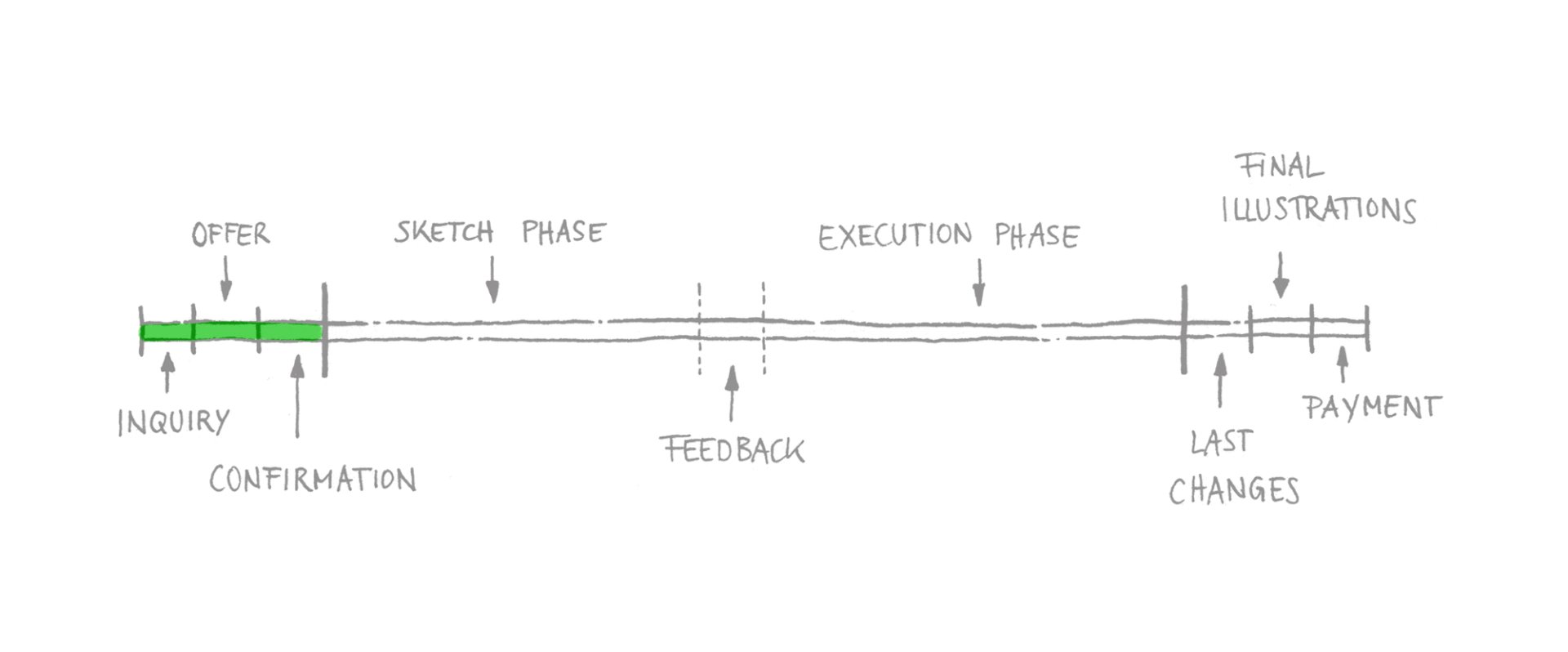 If you are interested in hiring me for your next project, I kindly ask you to answer a few questions about your project to give me an idea of the size and matter of your project. With this information I can draw up an offer specifically cut to your needs and wishes.
The offer will name the specifics of the illustration project and the agreed delivery date as well as the usage rights that will be included in the calculated fee. It also includes a very basic set of conditions that I kindly ask you to agree to.
The fee usually includes:
– fee for usage rights as named in the offer    
– compensation for creating and executing the illustration(s)
– one round of changes at sketch stage*
– one round of small changes at final stage*
If you have checked the offer and agreed to it, we start the project.
With the information provided by you I will create first sketches with pencil to give you a first idea of what the illustration(s) could look like. If not agreed otherwise, I will set a deadline for the sketch(es).
After creating the sketch(es) I will ask you to take some time for feedback. Sketches are the first step from abstract to concrete, they build the ground for discussion. This is the time to tell me everything you like or dislike or any changes you might wish for. Do the sketches apply to your vision? I care for your honest feedback, so don't hold back, but stay kind. 
As stated above, one round of changes at this stage is included. Additional changes in the sketch phase will be charged an additional fee. If you agree to the sketch(es), I move on to execute the illustration(s).
This phase will vary depending on which medium was agreed on. I work analog as well as digitally. As you can see in my portfolio I am used to pencil, colored pencil, ink, but also digital ways of coloring and vector illustration. These various ways of executing an illustration take different amounts of time and will come at different prices.
As I send you the executed illustration(s) implementing occasional changes from the sketch phase you get another chance to ask for small changes (In general, those are changes that can be done under an hour.) before I send you the final illustration(s).
Usually, the final illustration(s) will be transmitted digitally via email or provided as a download link. The illustrator holds ownership of the original illustration(s). The client purchases usage right(s) as described in the offer and as stated on the invoice. 
If you purchased an original, you are not receiving any commercial usage rights.
After you received the final illustration(s) you will receive an invoice via email. I kindly ask you to meet the invoice within a month from the invoice date. Payments will be done via bank transfer.
I hope you enjoyed the experience and the finished illustration(s). I always hope to hear or read from you again when you are planing your next project. You are always invited to leave a comment or follow my work on social media if you want to keep updated. Thanks for your time.